MULTI AWARD WINNING CARIBBEAN FOOD IN LONDON
- Crafted with Love -
Located in Merton Abbey Mills, South West London, Ting 'n' Ting was established in 2002 by Award Winning Chef Garfield Davidson. He has been providing customers with the exquisite tastes of the Caribbean ever since.
Photos by jonathan lappin
Inspired by his Auntie Ethel who always marinated her meat & fish with her seasoning & spices so it would smell and look ready to eat even before it was cooked - Garfield created the hugely successful Caribbean catering company called Ting 'n' Ting along with his partner Desiree.
He appeared on "Ready Steady Cook" in January 2001 with Lesley and Ainsley preparing the winning dish - Jerk chicken with sweet potato mash. It was named Ting "n" Ting by Ready Steady Chef, Lesley Waters.
After winning "Whatever You Want" with Gaby Roslin and judge Phil Vickery, Garfield was invited to create a ready made meal for Sainsbury's called Garfield's TV Dinner. It was sold in all Sainsbury's outlets, raising £10,000 for the BBC Children in Need charity. The meal was made at the Noon Factory in Middlesex.
In May 2001, he traveled to his island of Grenada with his daughter Regina to cook at some of the island's top Restaurants, bringing back with him a wealth of experience cooking with the freshest, finest Caribbean meat, fish and vegetables.
His quest is to introduce fine Caribbean foods to a wider audience.
Caribbean food has such a vast array of creative recipes from the simple to the exotic, with a blend of African, Asian, French, Dutch, Spanish, Portuguese and Chinese influences.
Outside catering is available. Please contact us on 0203 784 7315 to discuss your requirements.
AVAILABLE FOR HOME DELIVERY VIA UBER EATS & DELIVEROO
Fully Licensed Bar
Phone
0203 784 7315
Location
Unit 2, The Pavillions
Merton Abbey Mills
Watermill Way
London SW19 2RD
Hours
Wed-Sun 12pm-10pm
Last Orders at 9.15pm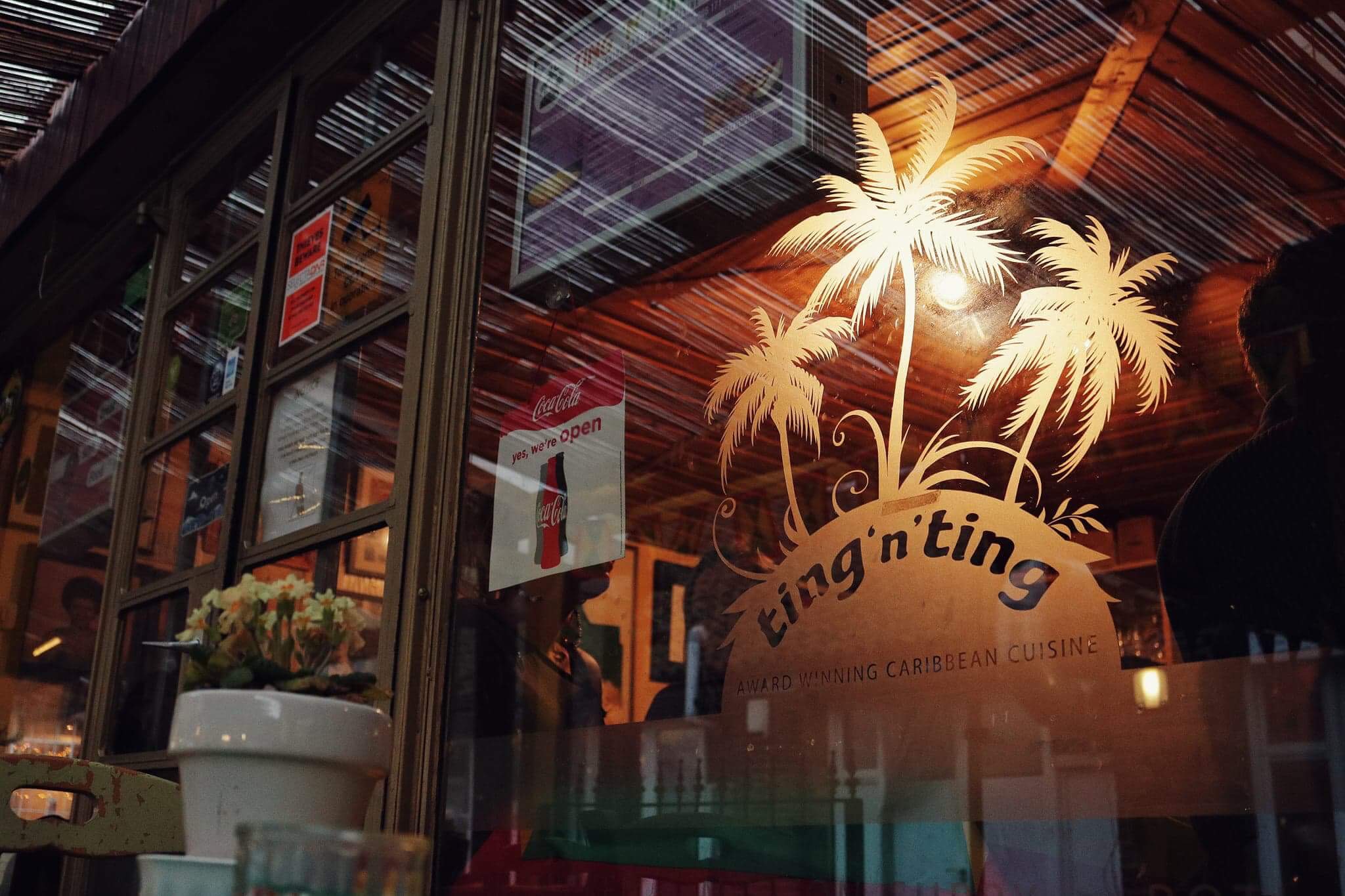 DRINKS
Caribbean Soft Drinks: Ting Grapefruit Crush, Grape Soda, Pineapple Soda, Ginger Beer, Fruit Punch, Diet Coke/Coke
£1.50
Super Malt
£2.50
Punches: Soursop Juice, Sorell Drink (Homemade), Guiness Punch (Homemade)
£2.70
Caribbean Beers: Red Stripe, Guiness (Can), Strongbow, Heineken, Holsten, Stag
£3
Carib, Guiness Foreign Extra
£3.50
Caribbean Rums: Cockspur, Mount Gay, Appleton Reserve
£4.50
Eldorado 8 Y.O, Wray & Nephew
£5.50
Rare Grenadian Rum, Rivers Rum, Clarkes Court
£6.50
House Wines: Red/White/Rose
£4.95 (Medium)/£6.50 (Large)
Call 0203 784 7315 from 12pm – 9pm (Wed-Sun).
Reservations required for parties of 4 or more.
Ting 'n' Ting is a registered trademark